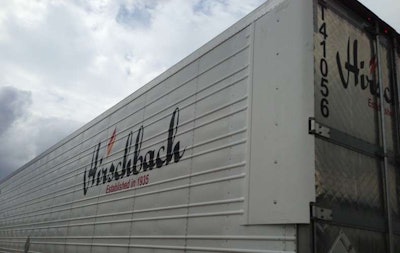 The experts in driver retention, Stay Metrics, announced that Hirschbach Motor Lines is implementing its Driver Engagement Platform.
Hirschbach Motor Lines, based in East Dubuque, Ill., is a fast-growing company that specializes in the delivery of fresh and frozen products throughout the United States. The refrigerated carrier operates an ultra-modern fleet of 850 tractors of which 250 were added in the past 12 months.
Hirschbach Motor Lines will be using an online rewards and retention platform from Stay Metrics to engage drivers in its company-wide "All in to Win" incentive program. Drivers will earn "chips" from various reward categories and redeem towards more than 40,000 items from an online catalogue that range from movie rentals to big-screen TVs and vacation packages.
"Stay Metrics gives us another avenue to recognize drivers for the great things they do every day," says Tom Grojean, Jr., chief executive officer of Hirschbach Motor Lines. "This platform makes it simple for drivers to track their activities and receive instant recognition for being professionals."
Hirschbach Motor Lines will also be using the online driver training, driver satisfaction surveys, exit interviews and expert analysis as part of the Stay Metrics platform.
"Like many of our clients, Hirschbach Motor Lines already has enviable retention and one of the most respected brands in the trucking industry. I am honored they have chosen our rewards and analytics platform to drive further improvements in retention and overall driver engagement," said Tim Hindes, chief executive of Stay Metrics.
Hindes noted that Hirschbach drivers could earn enough chips within 18 months for a Caribbean Cruise based on the commitment their company has made to rewards and recognition.
Stay Metrics also announced that Grojean will be joining its Advisory Board, bringing an additional perspective from a progressive CEO about what to include in the next versions of the online engagement platform. Hirschbach drivers will be piloting a new health and wellness training module from Stay Metrics this summer ahead of the scheduled launch in the fourth quarter.
"I think there are so many opportunities and different avenues for the trucking industry to use this platform to help drivers," Grojean said. "Stay Metrics is an innovative company and I am excited to offer my thoughts as a trucking executive to help shape the future."