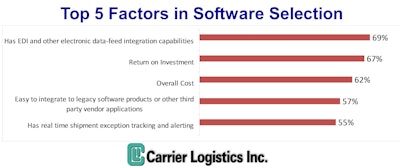 When choosing a new computer system, today's generation of trucking industry leaders want to work with a vendor that can customize the system and provide EDI (electronic data interchange) capability. Other requirements include accessible engineers, a top reputation, 24/7/365 support, and online help.
As for the system itself, they seek a high return on investment (ROI), affordable cost, easy integration with legacy software, real time tracking and tracing, and ease of programming.
These are among the results found in a recently-completed survey by Carrier Logistics Inc. (CLI) which incorporated responses from about 200 trucking industry executives.
"The results were significant," said Ken Weinberg, vice president and co-founder of CLI. "There once was a time when carriers looked for a developer of their software who knew which end of the trailer was backed into the dock and who had grease under his fingernails. Now, it is all about which applications the system will conduct and how well they will perform them."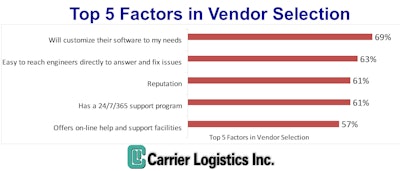 "The transportation industry has changed greatly over the last ten years," said Gary Snyder, CLI's business development manager, who conducted the study. "It is no surprise that the industry now chooses a transportation management computer system vendor rather than building in-house. They choose that vendor, and the system itself, in a completely different way than in the past."
Carrier Logistics Inc., based in Tarrytown, N.Y., is a transportation systems and engineering consulting firm and developer of freight management systems for the trucking industry and for multi-stop freight carriers and logistics companies in the U.S., Canada, Australia and the United Kingdom.