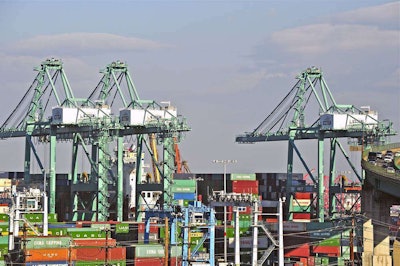 As West Coast port problems persist, Congress is considering legislation to allow governors to intervene in port labor disputes to prevent port slowdowns from crimping freight flow and causing any economic slowdowns. Also, truckers for some drayage carriers are threatening to strike over their inability to unionize.
On June 5, Sen. Cory Gardner introduced a bill that would allow state governors, not just the president, to invoke Taft-Hartley Act. The legislation, called the Protecting Orderly and Responsible Transit of Shipments Act, would let governors convene a board of inquiry and begin Taft-Hartley's process when a port labor dispute is causing economic harm, the Colorado Republican said.
Once the board reports, governors could petition federal courts to enjoin port slowdowns, strikes or lockouts in their states. It would allow slowdowns to trigger Taft-Hartley's powers.
Meanwhile, most Intermodal Bridge Transport owner-operators have threatened to strike if the Los Angeles area company does not recognize their right to union representation. The drivers, many who were on strike in April, are plaintiffs in pending class action and individual lawsuits against the IBT. The have been misclassified as independent contractors instead of employees, said the Teamsters union.
They delivered a June 5 letter to the heads of the IBT and its sister company, COSCO Logistics Americas, demanding recognition.
Also that day, the Intermodal Conference of the California Trucking Association asked for state ports to inspect chassis before truckers receive it instead of after. ICCTA Executive Director Alex Cherin requested that the Pacific Maritime Association and the International Longshore and Warehouse Union work with the trucking industry to resolve the issue.
"The PMA and ILWU both claim they want to work to resolve congestion, but the implementation of inefficient, unnecessary chassis inspections says otherwise," Cherin said. "Chassis should be repaired and inspected before they are provided to truckers, not after."
On May 31, the Port of Oakland experienced its third ILWU work stoppage in a little more than a week. The PMA said the union refused to dispatch workers for the second shift that day, when a new dispatch process was supposed to begin.
The new procedure had been scheduled for the previous weekend, but was postponed by mutual agreement, so dispatch would not be complicated during the Memorial Day weekend. An arbitrator ruled in favor of the PMA.
Other port news
On June 4, Los Angeles Mayor Eric Garcetti announced Cargomatic is testing a mobile app that speeds container cargo flow in the city's port. The "Cargomatic Free Flow" program is a web-based solution for cargo owners, terminals and trucking companies.
It allows trucks with unused capacity and shippers needing to move LTL freight and full loads to find each other. Drivers are required to have smart phones and motor carriers, owner-operators and beneficial cargo owners may participate. Cargomatic sets the drayage rate booked through its platform and carriers are paid within 8-15 days.
Other San Pedro Bay marine container terminals and the Port of New York and New Jersey are now participating in the program.