Posted rates on the spot market in May shot upwards in all three segments, according to data from Truckstop.com, and paid rates — averages derived from verified rates paid to carriers on spot market loads — continued to either trend a dime or two higher than posted rates or pull posted rates higher.
And in the first week of June, an uptick in loads and a slight tightening of capacity drove rates upward in each segment, according to data from DAT Solutions. Here's its most recent weekly rates chart: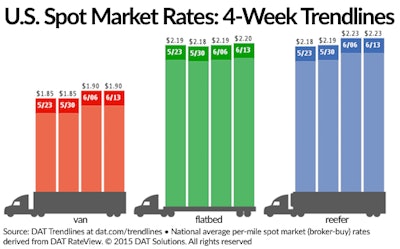 And here's a look at Truckstop.com's paid rate data from May for all three segments: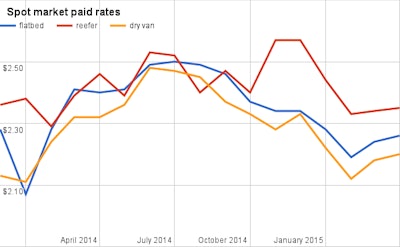 Dry van, specifically, saw upward momentum both for the month of May and the first week of June.
Though per-mile rates fell to an average of $2.19 in the segment, posted rates jumped 13 cents, signaling a small market swing in carriers' favor. This chart plots the movement of posted and paid rates in the last year and a half: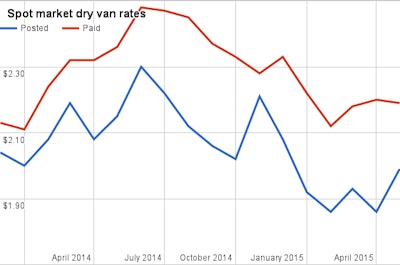 In the first week of June, demand for van loads rose 32 percent on DAT's boards, while truck availability fell 7.5 percent, the company reported, which drove van rates in the week up 5 cents in the week.
Paid rates for reefer haulers in May averaged $2.40, according to Truckstop, marking a 5-cent increase over April's numbers. Paid rates now 2 cents higher than the $2.38 posted rate average for May, following a 22-cent jump in posted rates. Here's a look at reefer rate changes since late 2013:
Flatbed haulers, likewise, continue to experience seemingly good leverage on the spot market, with paid rates averaging 17 cents higher than average posted rates.
Paid rates in the flatbed segment averaged $2.29 in May, a 3-cent climb from the month prior. The average posted flatbed rate rose 4 cents. Here's the flatbed rate chart: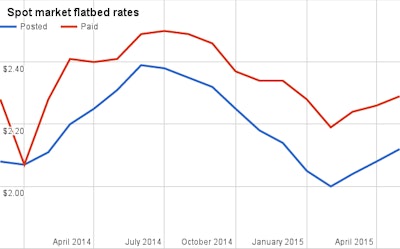 Per DAT, flatbed rates in the first week of June rose 1 cent to $2.19, following a 38 percent increase in load availability, and reefer rates climbed 4 cents to $2.23 on a 37.5 percent increase in load availability.