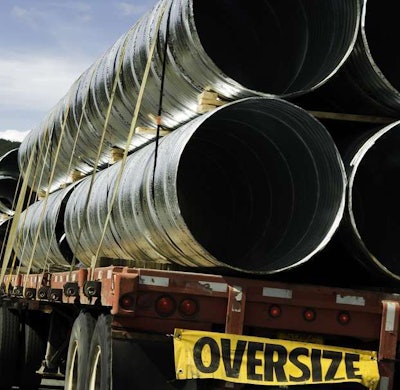 The Federal Motor Carrier Safety Administration has announced an exemption from the 30-minute rest break provision in the hours-of-service regulations for haulers of oversize/overweight loads.
The exemption enables all carriers and drivers transporting loads that exceed normal weight and dimensional limits – oversize/overweight loads – and require a permit to be exempt from the 30-minute break.
FMCSA determined that, with lack of suitable parking for trucks with OS/OW loads, many times drivers will park on the shoulder of a highway with loads sometimes extending into lanes of traffic, according to FMCSA's report.
"No matter how well marked, trucks parked at roadside, especially at night, are too often mistaken for moving vehicles and struck, frequently with fatal consequences, before an inattentive driver can correct his or her mistake," the report states.
They added drivers of OS/OW vehicles are just as likely to be involved in a crash while parked roadside during a 30-minute break as they are while driving during that same time period or within the hour after the break, where the break has shown to be most beneficial.
FMCSA put the following terms on the exemption:
•Only drivers moving in interstate commerce are eligible for the exemption. Drivers of OS/OW loads not moving in intrastate commerce are not eligible.
•Drivers must have a copy of the exemption document in their possession while operating under terms of the exemption, and the document must be presented to law enforcement upon request.
•All motor carriers utilizing the exemption must have a "Satisfactory" safety rating with FMCSA, or be "unrated." Motor carriers rated "Conditional" or "Unsatisfactory" may not utilize the exemption.
•All motor carriers operating with the exemption must have Safety Measurement System scores under FMCSA's intervention thresholds.
The exemption is good for two years, through June 18, 2017.