A look at some trucking-related economic indicators to come across the wire in the last week:
[gttable cols=""]
Freight, freight spending up: Cass reported last week index readings for May from both its Cass Freight Index Report and its Cass Truckload Linehaul Index — the former a measure of freight shipments and spending and the latter a measure of truckload rate changes.
Freight shipments in the month rose 2.3 percent from April, Cass reported, while freight payments rose 1.5 percent. Both, however, were down from the same month in 2014. Cass says though GDP growth in the year has been stagnant, freight growth has been strong.
Meanwhile, tight capacity and increasing freight demand continued to drive rates up in May, Cass reported in its monthly Truckload Linehaul Index. Rates in all three major truckload segments rose in the month. Cass' index was up 3.5 percent from May 2014 and 9.5 percent from May 2013.[/gttable]
[gttable cols=""]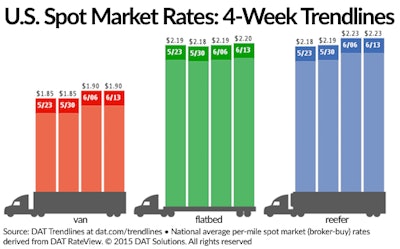 Rates hold strong: Following big jumps in the first week of the month, average rates on the spot market "remained elevated" in the second week, DAT Solutions reported in its most recent weekly rates report. Van and reefer rates were unchanged, and flatbed rose a penny.[/gttable]
[gttable cols=""]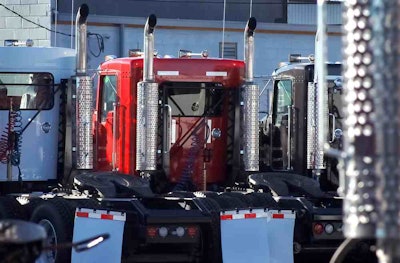 Truck orders continue to tumble: Continuing a now months-long downturn for truck orders, Class 8 net orders totaled 20,500 in May, according to ACT Research. Truck orders soared at the end of last year and the beginning of this year, but tapered off in recent months. ACT's Steve Tam also said upcoming months may continue the draught in orders. "A glance into near term expectation is sobering," he said. "HIstorical order placement practices suggest orders for the next four months will be 15 to 20 percent below average."[/gttable]
[gttable cols=""]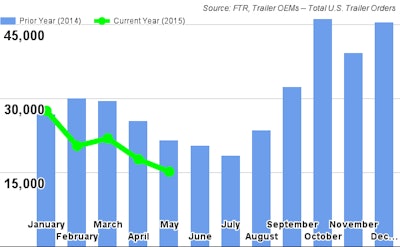 Trailer orders slide, too: Net trailer orders in May fell 14 percent from April and just shy of 29 percent from May 2014, according to FTR, who says the drop is in line with seasonal trends. Order backlogs remain strong, however, FTR says, though it has fallen some in recent months. Order numbers likely will continue to fall in the coming months too, FTR says.[/gttable]