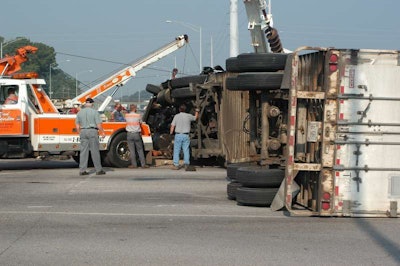 A bill introduced last week in the U.S. Senate would if passed require employers to pay truck operators for all hours worked, rather than solely per-mile pay, and double the minimum amount of liability insurance required to be held by motor carriers.
The Truck Safety Act, introduced July 10 by Sen. Cory Booker (D-NJ), would require motor carriers to hold $1.5 million in liability insurance, instead of the current $750,000 minimum. It would also tie the minimum to inflation.
The Federal Motor Carrier Safety Administration began work last year on a rule that could increase current liability minimums, though little progress on the rule has been made. The American Trucking Associations and the Owner-Operator Independent Drivers Association both contend that an increase to the current minimum is unnecessary, as it covers more than 99 percent of crashes already.
Some work has also been done in Congress to attempt to block such an increase. The House's current Department of Transportation funding bill for the 2016 fiscal year includes a provision to bar FMCSA from increasing the required insurance minimum. The bill passed the House in May.
Booker's Truck Safety Act would also mandate that carriers pay drivers for all hours worked and not just mileage-based pay. A similar provision has been proposed by the Obama Administration, included in each of White House's highway bill proposals the last two years.
The TSA also would require a rulemaking to require that all new trucks be equipped with collision avoidance systems and require FMCSA and NHTSA to finish their joint rule to mandate speed limiters on heavy trucks.
The bill was referred to committee last week.