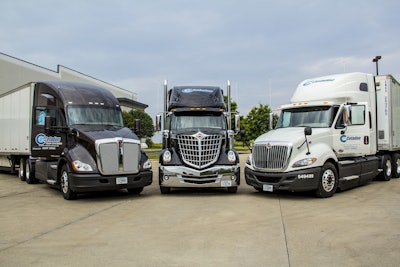 Omnitracs, a provider of fleet management systems to transportation and logistics companies, announced that Celadon has extended its contract for Omnitracs' TT210 trailer tracking technology by three years.
Celadon has been an Omnitracs customer for more than 20 years and first adopted the untethered trailer tracking system across its fleet of 13,000 trailers in 2005 to complement the capabilities of the Omnitracs in-cab mobile fleet management platform.
As one of the top truckload carriers in North America, Celadon offers long-haul, regional, local dedicated, intermodal, temperature-controlled, flatbed and expedited transportation. The company uses Omnitracs' TT210 to accurately monitor and manage the location and status of its trailers, whether connected or disconnected.
"We have experienced the asset and cargo security benefits of Omnitracs' trailer tracking first-hand since our initial adoption a decade ago and can't imagine our fleet operation without the benefits of this business-critical system," said Mike Gabbei, chief information officer at Celadon. "The near-real-time information is critical to efficiently managing our trailer inventories, optimizing our tractor-trailer ratios and delivering best-in-class service to our customers—all of which have direct impact on the bottom line."
Omnitracs TT210 is an untethered trailer tracking platform that automatically reports the location and status of trailers in the U.S., Canada and Mexico. Optional sensors detect the opening and closing of trailer doors and the presence or absence of cargo.