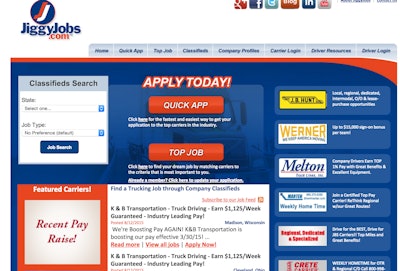 Randall-Reilly, publisher of CCJ, announced the acquisition of JiggyJobs.com from Conversion Interactive Agency. JiggyJobs.com expands Randall-Reilly's already robust portfolio of driver recruiting services.
The website brings with it a well-rounded online presence through its social media and blog, as well as a database of drivers to provide leads for Randall-Reilly clients. Randall-Reilly and Conversion Interactive Agency will work together to create a seamless transition for both carriers and drivers.
"We really like the job posting model," said Scott Miller, senior vice president of sales at Randall-Reilly. "The website will provide unique behavioral data on drivers and will bolster traffic for our driver recruiting network. We want to assure carriers currently using JiggyJobs.com that Randall-Reilly will continue providing the same level of customer service they received with Conversion Interactive Agency."
The acquisition allows both Randall-Reilly and Conversion Interactive Agency to align resources with their complementary driver recruiting services.
"While JiggyJobs.com is one of the most successful driver recruiting web sites in the industry, we want to ensure that our resources and investments remained focused on our advertising agency business," said Kelley Walkup, president and CEO of Conversion Interactive Agency. "Today, more than ever, we're focused on our core business of executing advertising and marketing strategy to help our customers reach their driver recruiting and retention goals."