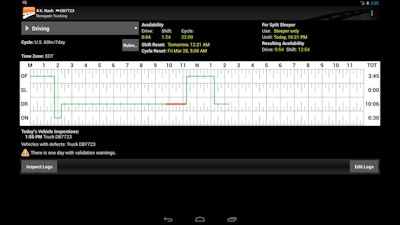 The private carrier of Little Debbie owner McKee Foods was granted in March an exemption that allows some of its drivers three options to satisfy the federally required 10 sleeper berth hours for truck operators.
Team drivers for McKee who (1) run electronic logs, (2) keep a regular weekly schedule, (3) Shut down for at least one sundown-to-sundown period and (4) are home for at least 48 hours each week now can use either a 5/5, 4/6 or 3/7 split to meet their sleeper berth time, according to a notice in the Federal Register issued earlier this year.
In FMCSA's justification for granting the exemption, the agency responded to critics who alleged that doing so would be a "slippery slope" toward essentially indicating that "the current HOS is not suitable for acquiring the needed rest."
FMCSA said it is not changing the requirement that drivers rest for 10 hours in their sleeper berth, it only "provide(s) flexibilty of how the 10 hours…are split."
"Split SB periods were allowed prior to 2003; therefore, many MCSAP officers remain familiar with it, and training others can be done economically through existing, continuing training methods," the agency wrote.
The agency cited a report it released in January 2013 on research done on split sleeper berth time and its impact on driver fatigue.
That report "provides a reasonable basis for an exemption of this type," FMCSA said, adding that McKee's exemption will allow it to "observe the effects of split sleep in a real-world context over a substantial time period."
McKee's exemption lasts until this coming March.
CCJ sister site Overdrive Senior Editor Todd Dills has at this link more on the exemption and what he's heard from FMCSA on whether it is open to considering allowing split sleeper berth time more broadly.