Transportation companies need a fast and reliable stream of documents and information coming from drivers to support their billing, payroll and settlement functions. Without this, cash flow dries up and driver satisfaction plummets.
A number of electronic capture methods can get paperwork and receipts to the office quickly and accurately. The fastest growing, by far, is mobile apps.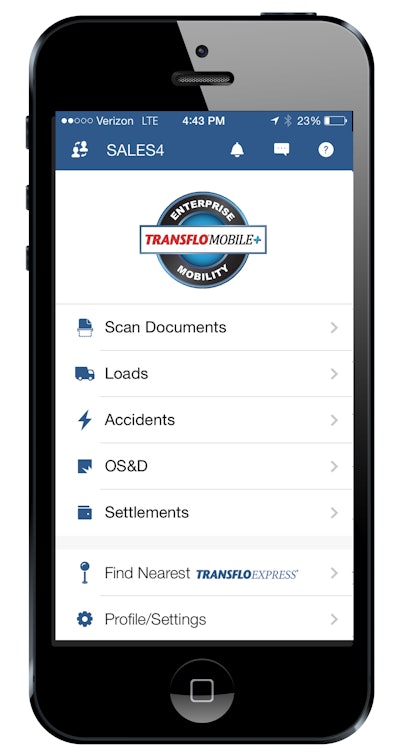 Apps are free and convenient to use for drivers. Fleets cover the cost — generally a small transaction fee for each document scanned or for all documents pertaining to a load.
Drivers for Packard Transport, a flatbed carrier with 209 owner-operators, use truck stop scanning and their own devices to transmit images. The company gives two choices for apps: Connect Mobile Capture from EBE Technologies and Transflo Mobile+ from Pegasus TransTech, says Chris Checca, IT manager for the Channahon, Ill.-based fleet.
The apps make it easy for drivers to send trip documents to the office immediately after delivering loads. In exchange, Packard Transport cuts a settlement check the same day.
Document capture
The benefits of mobile scanning are short lived when apps do not ensure image quality at the point of capture. Otherwise errors abound and rework piles up. Some apps have built-in intelligence to prompt drivers to retake an image, if necessary, prior to submission.
Compression techniques also play a role. Frank Adelman, chief executive officer of Pegasus TransTech, says the Transflo Mobile+ app ensures quality while reducing the image sizes from 1 MB to less than 100 kb per document to minimize usage of drivers' data plans.
Integration with billing and payroll functions is another benefit. EBE's Connect Mobile Capture app, for example, integrates with the back-office systems fleets use. It will automatically trigger exception alerts if drivers have missing or incomplete paperwork. This feature, called Settlement Assistant, "eliminates payday surprises," says Larry Kerr, president of EBE.
Forward mobility
When properly equipped, these apps can be an entry point for a much broader set of tools to keep drivers connected to the enterprise.
CalArk, a dry-van carrier based in Little Rock, Ark., (CCJ Top 250, No. 164), is using expanded mobile services in the Transflo Mobile+ app that include driver validation, pre-plan notification, load tendering, two way messaging, driver scorecards, and accident and claims submissions.
The Transflo Mobile+ app is part of an integration platform that Pegasus TransTech calls Mobile Software as a Service (MSaaS). CalArk uses the integration with its back-office systems to communicate electronically with drivers, inside and outside the cab.
"The ability to offer out-of-cab communication and provide real time KPI's to drivers, in conjunction with the already utilized mobile scanning application, got us excited about the endless possibilities and flexibility we needed," said Matt Braslavsky, vice president of IT for CalArk. "We knew immediately that we wanted to be an early adopter of this technology."
The expanded set of Transflo Mobile+ tools through the MSaaS platform costs $5 per truck per month and requires zero investment in hardware, Adelman says. The app is free for drivers and is distributed through Google Play and iTunes, making it easy to install the latest enhancements and updates on their devices.
Because drivers see, touch, and interact daily with company apps, the app itself becomes a useful marketing tool to reinforce the brand. Both EBE and Pegasus TransTech allow fleet customers to prominently display their logos in mobile apps. Fleets can add custom functions as well, such as hyperlinks that automatically login drivers to areas in secure websites.
Using mobile apps to stay connected with drivers inside and outside the cab has become a strategy for improving the quality of life while getting information faster and in more abundance than ever before.