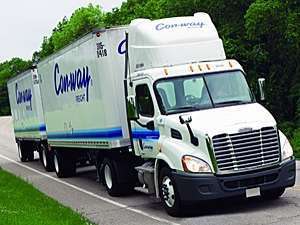 The Teamsters Union was dealt a blow this week in its efforts to organize Con-way (No. 6 in the CCJ Top 250) workers, as employees at Con-way Freight's maintenance facility in Portland, Ore., voted to reject representation by the union.
Over the past year, the union has been campaigning to organize drivers and other employees Con-way and FedEx Freight (No. 2 in the CCJ Top 250).
Most recently, employees in Hayward, Calif., voted against the union, joining Con-way facilities in Buffalo, N.Y., Santa Fe Springs, Calif., San Fernando Valley, Calif., Bakersfield, Calif., Manchester, N.H., and Harlingen, Texas, in rejecting the union's efforts.
"I want to thank our employees for the thorough and careful consideration they gave to this matter and for voting to remain union-free," said Joseph M. Dagnese, president of Con-way Freight. "We continue to believe that our best path forward is one where we are focused on our customers, working together directly with our employees to deliver a superior service experience, without the interference of a third party."
The Teamsters did win over Con-way employees last year in Miami Lakes, Fla., Los Angeles, and Laredo, Texas.