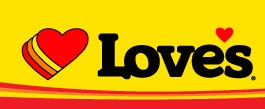 Professional drivers across the country now have access to Love's Travel Stops' TirePass, a technology that detects potential tire- and wheel-related problems before they occur.
They system-wide rollout for Love's is complete. Installations began earlier this year, and now the system is available at more than 200 locations.
Most locations with Love's Truck Tire Care centers are equipped with TirePass, and new locations with tire care facilities will receive the systems as well.
Love's says the system can extend the life of a tire by automatically inflating tires to the desired pressure. While a driver fuels, a technician hooks up truck and/or trailer tires to the automatic inflators stationed around the vehicle in the designated TirePass fueling lane.
Tires are inflated to the desired pressure if necessary, and tread depth and pressure are measured and recorded.
Fleet managers can receive immediate notification if a major problem is detected, giving them real time visibility of their units. Reports on all assessments performed throughout the month give fleets a way to analyze the life of their units' tires. Drivers also receive immediate reports showing the status of their tires.