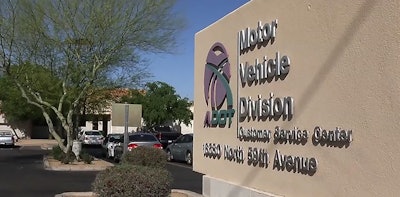 The Arizona Department of Transportation Motor Vehicle Division has issued a warning to Arizona-licensed operators over fraudulent websites offering services such as Arizona driver licenses, IDs and vehicle titles and registration.
ADOT says the fraudulent websites appear in searches with keywords such as DMV or MVD.
Arizona license-holders should know that ServiceArizona.com is the only authorized website for Arizona MVD transactions. Customers can use this site to conduct many routine transactions, such as applying for a duplicate driver license or driver license reinstatement, renewing a registration and more. It's not possible to obtain a driver license online in Arizona, ADOT says.
There are third party businesses authorized to conduct MVD business in person, and a list of these locations in Arizona can be found here.
For more information about Arizona's MVD services, please visit azdot.gov/mvd.