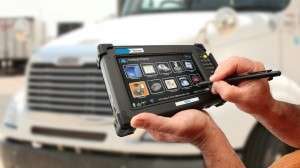 PeopleNet, a Trimble Company and provider of fleet mobility technology, has been named as a finalist in the IT Services category for the 2015 Tekne Awards. Presented by the Minnesota High Tech Association (MHTA), the Tekne Awards honor Minnesota companies and individuals who have shown superior technology innovation and leadership. The winners will be announced at the awards gala at the Minneapolis Convention Center on Thursday, Nov. 18.
The Tekne Awards IT Services category recognizes the contributions of technology service providers whose creative approaches to business solutions streamline client processes, reduce customer costs, shorten time to market, and increase service capacity or customer access through technology.
PeopleNet was chosen as a finalist based on its new ConnectedFleet platform that integrates enterprise and mobile technologies with real-time predictive analytics.
"We're honored to be recognized by MHTA for our long-standing commitment to innovation and technology," said PeopleNet President Brian McLaughlin. "Our new platform supports our overall mission of serving the needs of North American transportation companies with the best possible solutions for effective management, and customizing those solutions to meet customer-centric needs."
For the past 16 years, the Tekne Awards have been given in 13 categories to Minnesota's best and brightest technology users and developers in innovation, development, education, commercialization and management.
"The Tekne Awards recognize those whose leadership and dedication to technological development helps demonstrate Minnesota as a global leader in technology," said Margaret Anderson Kelliher, president and CEO of MHTA. "This year's finalists should be extremely proud of their role in advancing the science and technology sector in Minnesota."