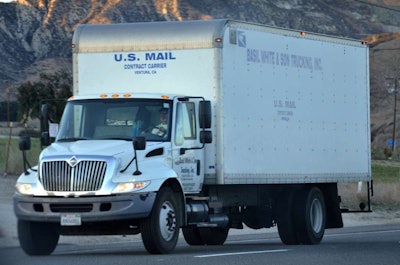 The American Postal Workers Union, which represents U.S. Postal Service employees, said Thursday it's opposed to an exemption request submitted recently by private, contracted mail carriers seeking an exemption from the federal 14-hour on-duty limit.
Drivers of those for-hire carriers contracted by the USPS are "already overworked," the union says. The exemption request, says the union, is a means for the carriers to "squeeze a few extra hours of labor" out of their drivers.
The National Star Route Mail Contractors Association, which represents for-hire trucking companies that carry U.S. mail, requested in August that drivers working for contracted mail carriers have the ability to — after being off duty for eight consecutive hours — choose to be on-duty up to 15 hours in a 24-hour period and drive up to 10 hours. NSRMCA says its drivers typically work in "split-shifts," breaking their on-duty time up with a nine-hour break between on-duty shifts.
The postal workers union, however, disagrees with NSRMCA's assertions that the change won't impact driver fatigue or highway safety.
"Private trucking firms are willing to risk safety on the roads so they can squeeze a few extra hours of labor from already-overworked truck drivers," said APWU President Mark Dimondstein. "This is a dangerous proposal and regulators should reject it. Last year people were horrified by the terrible accident involving comedian Tracy Morgan, when his vehicle was crushed by a truck driven by a sleep-deprived driver. The people want the current rest standards enforced, not weakened."
The APWU has requested the Federal Motor Carrier Safety Administration to conduct a public hearing on the exemption.
NSRMCA said in its exemption request that drivers will often work eight hours, with a nine-hour break during the day between outbound and inbound routes, and a seven-hour overnight break. The group also said the exemption would reduce operating costs for the USPS and contractors that have contracts with USPS.