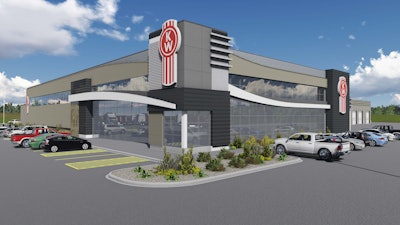 On Wednesday September 9th, local truck dealership, Wisconsin Kenworth, held the official groundbreaking ceremony for its new facility located at 4539 Kenworth Drive, Windsor, Wisconsin. The site is just north of the company's current dealership.
Wisconsin Kenworth is a subsidiary of CSM Companies based in Madison. It operates six commercial truck sales and service locations across Wisconsin and the Upper Peninsula of Michigan.
The 75,700-square-foot building will incorporate many new technologies within its two story design. These include bays specially designed to provide rapid-assessment diagnostic service and specially equipped areas to service environmentally friendly CNG (Compressed Natural Gas) powered units. Other innovative features include energy efficient lighting and geothermal heating throughout the service bays and offices.
A highlight of the ceremony was the participation of Dan Haas and Duane Olson, two long time employees who were present at the opening of the company's first facility in 1979. Board members from the Town of Windsor, executives from CSM Companies Inc., and Preston Feight, Kenworth general manager and PACCAR vice president, also participated.
"It's great to see one of our company's leading Kenworth dealers building a new facility with a focus on using environmentally friendly technologies," Feight said. "Our network of more than 360 U.S. and Canadian dealer locations is committed to providing the best parts and service support in the industry. The investment in this new facility further demonstrates that commitment."
Jim Moeller, CEO of CSM Companies, Inc. added, "This new state-of-the-art facility will ensure that we are able to meet the technological demands of an ever evolving industry and allow our dedicated employees to continue to deliver Kenworth quality service to new and existing customers."
The new facility is expected to bring approximately 30 new jobs to the Madison area. Construction is expected to be completed during Summer 2016.