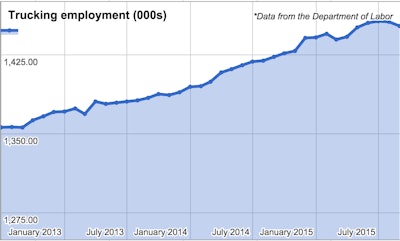 The for-hire trucking industry's total employment fell by 4,000 jobs in September on a seasonally adjusted basis, according to the Department of Labor's monthly Employment Situation Report, released Oct. 2.
The DOL also downwardly revised by about 1,500 jobs the preliminary increase from August, now reporting a loss of about 600 jobs in the month.
The U.S. economy as a whole, however, added 142,000 jobs, and the country's unemployment rate held at 5.1 percent.
August and September join March as the only months to see month-to-month declines in trucking industry employment, following a year (2014) in which no month posted fewer trucking jobs than the month prior.
Trucking industry employment now totals 1.4524 million on a seasonally adjusted basis.
The broader transportation and warehousing sector added just 3,500 jobs in September. The construction industry added 8,000 jobs, per the DOL report, while manufacturing lost 9,000.