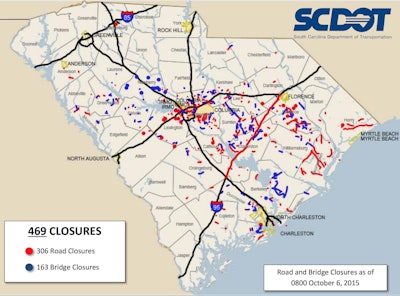 Transportation Secretary Anthony Foxx announced Wednesday the immediate availability of $5 million in emergency relief funds to the South Carolina Department of Transportation.
The money will be used to help repair roads and bridges damaged by the flooding throughout the state as a result of Hurricane Joaquin, specifically infrastructure repairs to restore essential traffic. Torrential rains began in the state Oct. 2 and continued for several days, resulting in more than 20 inches of rain in some areas. Portions of I-26 and I-95 have been closed from the flooding since Sunday.
"Emergency relief funding will help the state begin immediately to recover from record breaking flooding," Foxx said. "We want South Carolina to know this funding is only a down payment on our commitment to ensuring all highways and bridges are repaired in the state. More resources will become available as estimates for the cost of repairs become clear."
The money is from the Federal Highway Administration's Emergency Relief program.
"The damage is of historic proportion and the state is hurting," said FWHA Administrator Gregory Nadeau. "We know that the losses are great throughout the state, but getting roads and bridges back up and running again is the first step to restoring communities again."