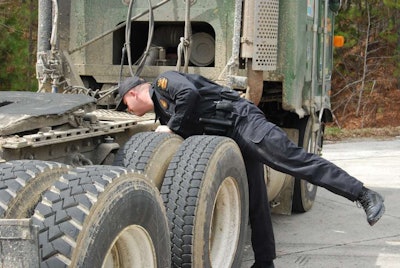 A new analysis from the Federal Motor Carrier Safety Administration reiterates the agency's position that its Safety Measurement System utilizes enough data to issue rankings (also known as "CSA scores") to prioritize carriers for intervention.
The report comes amid increasing calls from industry, law enforcement and some members of Congress for FMCSA to remove from public view the rankings generated by the SMS, part of the agency's Compliance, Safety, Accountability system.
The agency uses those measurements to prioritize carriers for intervention in an effort to improve regulatory compliance and, the agency contends, highway safety. Carriers are ranked according to their violations in seven "BASIC" categories.
FMCSA says the SMS contains sufficient data to produce a BASIC score for "approximately 200,000 of the 525,000 active motor carriers." Those 200,000 carriers under the oversight umbrella of the SMS, the agency notes, are involved in the vast majority (more than 90 percent) of all heavy truck and bus recordable crashes. FMCSA believes that high level of oversight of the industry is crucial to its mission to reduce crashes and improve highway safety.
The report comes to light following Congress's most recent attempt to include language in a long-term highway bill that would pull the CSA SMS BASIC rankings from public view. This most recent attempt fell apart with the highway bill itself and the current short-term funding extension.
The agency in part addresses public-view concerns with a small section on a goal of "transparency" in offering public inspection and violation data on a central website. "Open and transparent reporting of safety data encourages a culture of commercial motor vehicle safety and creates incentives for motor carriers to improve their safety performance," the report notes.
The agency appears to have fully embraced third-party use of the SMS with this report as well. It says that "transparency also allows members of the public to make informed business decisions based on all available sources of FMCSA data, including FMCSA safety ratings, licensing and insurance information, and SMS data."
Such public, commercial third-party use of the system (such as by shippers, brokers and insurance companies), given volatility in the rankings at the small-carrier level, has been a principle concern of that population of carriers through much of the system's history.
As part of its analysis, FMCSA compared the crash rates of carriers with sufficient and insufficient data in the system to produce a score. Carriers with the highest scores, those above intervention thresholds, had the highest average crash rates overall, the agency notes. Further, FMCSA looked at the crash rates of groups of carriers with scores above the intervention thresholds in BASICs other than the Crash Indicator, separating those populations by the number of inspections recorded by the system. Though the agency states in a press release that comparison of crash rates by carrier size showed "no significant difference … between small carriers and those with 20 or more roadside inspections," the study points out that the highest crash rates were shown for carriers with 11-20 inspections in the system.
From that analysis, the report contends that increasing the data sufficiency standards as high as 20 inspections, a level utilized by the Government Accountability Office in an alternative methodology analyzed in 2014, would make it more difficult for the agency to appropriately intervene with the group showing that highest average crash rate.
The SMS "ensures that there is oversight on the largest population possible—including both small and large carriers," the report's summary states. "Since introducing the use of the system, violation rates have dropped by 14 percent. Motor carriers are paying attention to their safety data more than ever before, which improves safety."
The analysis was requested as part of a March House appropriations bill and follows concerns with data sufficiency identified by the Congressional GAO's February 2014 report. GAO took issue with the number of inspections FMCSA requires before assessing a carrier in any of the BASICs, in some instances as few as three inspections with an associated violation. In essence, GAO suggested a higher volume of data — whether number of inspections, past crashes or other metrics — would make the measurement system a much better mousetrap.
In FMCSA's new report, the agency once again takes issue with "GAO's alternative approach" for its stated focus "on those carriers that have already had a crash" rather than crash risk. The agency goes so far as to call the approach "incorrect and irresponsible." FMCSA "believes that motor carriers that commit patterns of violations that have been shown to have a strong correlation to crash risk should be identified and appropriately prioritized for intervention," such as a warning letter about rising rankings/scores or an on-site investigation.
Also, FMCSA is currently at work on a rule designed to revamp the safety rating process to primarily utilize violation data procured at roadside and during carrier investigations. Known as the Carrier Safety Fitness Determination rulemaking, a DOT significant-rulemakings calendar projection of a September 30 date for release passed without incident. The October significant-rulemakings report has not yet been published.