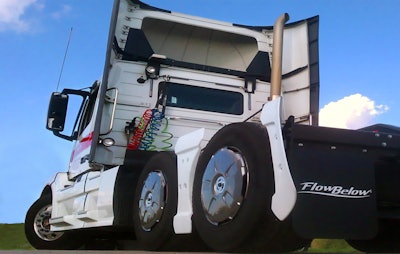 FlowBelow announced a new modified version of its Tractor AeroKit for use in flatbed and tanker fleet operations, and says the new system offers fuel savings of 3 percent on tanker and flatbed tractors, compared to 2.23 percent in dry van and refrigerated van applications.
Click here to see all of CCJ's coverage from the American Trucking Association's annual Management Conference and Exhibition.
According to FlowBelow, the improved fuel savings in flatbed and tanker fleet operations can be attributed to the reduced overall aerodynamic performance of these specialty trailers as compared to standard dry van and refrigerated trailers, making the aerodynamic improvement from the Tractor AeroKit even greater.
"Fleets stepped up and said they wanted to try this as they have limited options to improve trailer aerodynamics," said G. Bren Marshell, vice president of sales for FlowBelow. "We started doing testing and it showed 3 percent fuel savings in tanker applications over 6 months." The company also announced that 1,000 AeroKits are now deployed n tanker and flatbed fleets in the United States.
FlowBelow's Tractor AeroKit consists of aerodynamic wheel covers as well as middle and rear tandem fairings to reduce turbulence and drag around the rear wheels of tractor. The wheel covers feature a quick-release push and turn technology on wheel covers allows immediate, tool-free access to wheels.
More than 160 North American fleets have deployed the company's AeroKits on 10,000 tractors, and the company projects it will deploy 35,000 systems by year-end 2016.