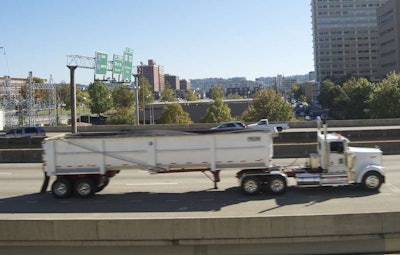 The U.S. House's Transportation Committee released Oct. 15 a six-year, $325 billion long-term highway funding bill that would if law remove carrier rankings in the Compliance, Safety, Accountability program from public view and set up a pilot program for under-21 CDL holders, among other trucking industry reforms.
The House bill is similar to the Senate's July-cleared DRIVE Act highway bill and includes many of the same trucking industry regulatory reforms. But it currently has a different name, the Surface Transportation Reauthorization and Reform Act of 2015, and a slightly higher price tag — about $50 billion more than the Senate's $275 billion bill.
The legislation is being billed as a bi-partisan effort that could land the U.S. its longest highway bill in over a decade. Funding for the bill, however, still must be determined by the House's Ways and Means Committee.
The House's Transportation and Infrastructure Committee is expected to vote on the bill next Thursday, according to a statement issued by Rep. Bill Shuster (R-Pa.), the committee's chair.
The highway funding matter is once again pressing, with Congress having until just Oct. 29 to pass a long-term bill or settle for another short-term patch. If they take the latter route, that will be the third short-term patch cleared this calendar year and the 35th in the last decade.
If the House can pass its STAA bill, the House and Senate would still need to resolve any differences in their respective bills and pass the new versions before the bill can be sent to the White House for the president's signature.
Highlighting trucking industry reforms in the bill are its CSA-related provisions. It would require FMCSA to remove from public view all crash records, violation history and analysis and percentile rankings in CSA's Safety Measurement System BASICs. It also requires the DOT's Inspector General to study CSA and produce a "corrective action plan" for FMCSA to pursue prior to reimplementing the program.
For CSA and its ranking system to become live again, FMCSA would have to "fully [implement] or satisfactorily address the issues raised" in the Inspector General report.
Other regulatory reforms include:
Under-21 interstate truckers: The bill would require the DOT to produce a study on potentially allowing CDL holders between 19 and a half years old and 21 to operate interstate.
Following the report, the bill dictates that FMCSA set up a pilot program based on the report's recommendations on hours-of-service for these younger truck operators, mandatory training standards and potential safety technologies that could be employed.
Driver drug testing: The bill would allow carriers or drug testing consortia to use hair samples instead of urine samples to satisfy driver drug testing requirements.
More on the House highway bill will be posted next week.