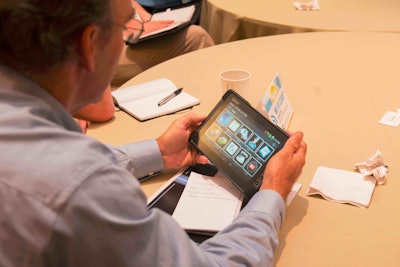 PeopleNet, a Trimble Company and provider of fleet mobility technology, announced it is partnering with Samsung Electronics to offer PeopleNet software on Samsung devices. The new off-the-shelf mobility option allows fleets to deploy proprietary company apps, approved third-party programs and PeopleNet software on the same device.
Partnering with Samsung is part of PeopleNet's broader Company-owned, Personally Enabled (COPE) mobile device strategy to address the market need for multi-platform accessibility and enterprise mobility management.
"This new mobility solution allows us to support all applications a fleet chooses to install while maintaining end-to-end responsibility for our software," said Mark Kessler, general manager of Trucking for PeopleNet. "Given the focus and priority on retaining drivers and giving them the tools they need, this solution gives drivers the flexibility to use the device on their own time, running their company-allowed personal applications, with the confidence that company work and software won't be affected."
Benefits of the PeopleNet-supported Samsung devices will include:
Easily manage both business and personal apps running on the device
Remotely assist drivers during support cases and trouble shooting
Enhance user experience through customizable home-screens
Quickly secure and remove mobile device
The announcement was made at the annual American Trucking Association (ATA) Management Conference and Exhibition being held in Philadelphia, PA Oct. 17-20.