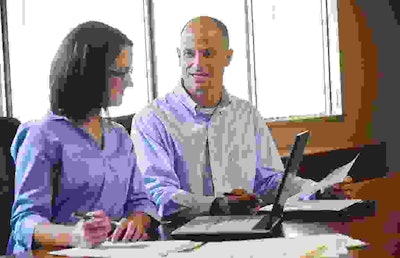 J.J. Keller & Associates announced that four fleets with a combined 10,000 drivers have signed up for its soon-to-be-released data management service called DriverDataSense.
Tom Reader, J.J. Keller's director of marketing for Managed Services, gave CCJ an update on the product during the American Trucking Association's annual Management Conference and Exhibition, held Oct. 17-19 in Philadelphia.
Switching from paper to electronic logs involves implementing new hardware and software, training drivers and office staff, and then managing data from both paper logbooks and electronic devices until the final conversion is complete.
Making matters more complicated is the fact that some fleets use electronic logging devices (ELDs) from more than one supplier.
Driver DataSense is a tool that creates a holistic view of compliance from HOS data automatically captured from paper logs and ELD systems, said Kari Gloudemans, product manager of J.J. Keller's Managed Services division. It can also capture data from time clock systems used by drivers that are exempt from HOS rules by operating within a 100 to 150 air-mile radius.
The service comes with a web-based portal that gives fleets reports and visibility of compliance metrics and includes dedicated support from a J.J. Keller Client Service Specialist. A human contact is always on call to help mitigate risk, interpret information and overcome compliance issues, said Shaun Gunderson, vice president of Managed Services for J.J. Keller.
The service will send e-mail notifications on a nightly or weekly basis to help clients focus their priorities for work. For instance, a fleet safety manager may get a notification that five drivers are consistently having a specific type of HOS violation. The notification will give advice on how to resolve the problem.
Besides ELD data management, Driver DataSense can report on driver performance metrics for hard braking, idle time, fuel economy and more. Fleets that run onboard computers from multiple providers – due to acquisitions they have made or for other reasons – have expressed interest in this added management service, Gloudemans said.
Pricing for the service will include a one-time setup fee for automating the data capture from ELD providers and a monthly subscription based on driver count – the same pricing model for all of J.J. Keller's Managed Service offerings.
After completing its beta testing, J.J. Keller plans to make Driver DataSense commercially available in January, 2016.