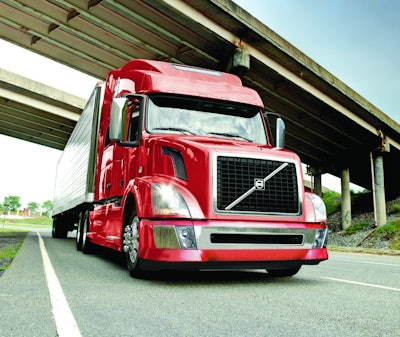 The North American Council for Freight Efficiency released a new confidence report highlighting the benefits and disadvantages of diesel engine downspeeding technology in Class 8 applications this week.
Mike Roeth, executive director of NACFE, noted that the report drew on unbiased experts from across the trucking industry, including OEMs, component suppliers, engine and drivetrain manufacturers and large and small fleets to paint as comprehensive a picture as possible on how downspeeding is being used in trucking today.
Downspeeding, Roeth noted, uses high-speed rear axles combined with high-torque, lower-RPM diesel engines. With this powertrain combination, a diesel engine revs less at any given highway speed and therefore receives corresponding fuel economy boost. NACFE found the typical downspeeded truck gained between a 2- and 3-percent increase in fuel economy, compared to tractor-trailers running conventional powertrains.
Roeth said the study determined that there are two basic downspeeding configurations commonly found in trucking today. The first, and most common spec, relies on a direct-drive transmission, which delivers higher fuel economy numbers. Some fleets are opting for the second choice, which uses an overdrive transmission with a slightly slower rear axle.
"The key enabler in all cases are the new generation of electronically-controlled automated manual transmissions," Roeth noted. "These transmissions make downspeeding more attractive and practical for fleets today, particularly when they are mated with finely-tuned engine parameters to optimize fuel economy and mitigate torque management problems."
Significantly increased low-end engine torque is one drawback to downspeeding. Roeth says drivetrain component suppliers manage this problem by using larger, more robust axle gearing and driveline components, in addition to enhanced electronic engine programming.
The study determined that spec'ing more robust axle and driveline components generally adds between $500 and $1,000 to the vehicle acquisition cost. But, it also noted that fuel savings offset these numbers. Based on a five-year average diesel prices, NACFE calculates fuel savings of approximately $1,500 per year. Plugging in current low fuel prices yields a annual saving of approximately $1,000 per year per downspeeded truck.
Roeth said the study found mixed responses on downspeeding technology from drivers. On the positive side of the ledger, drivers with downspeeding experience complimented the "significantly" quieter ride at highway speeds combined with "snappy" acceleration and low-end power.
On the other hand, the study found that many fleets were reluctant to order downspeeded trucks, fearing that uninitiated drivers would reject them and either leave or decline to hire onto a fleet equipped with them.
Resell values remain a worry for other fleets as well, since NACFE found that downspeeding is a spec that works best in long haul, steady-state driving applications.
As a result, current estimates show only about 25 percent of new, long-haul tractors are currently being spec'd with downspeeded powertrains. But, based on the report's findings, NACFE strongly recommends long-haul fleets consider the spec as a way to incur significant annual fuel savings. "The key for fleets interested in adopting this spec is to work closely with both OEMs and component suppliers to insure the vehicles are spec'd correctly," Roeth added. "If that's the case, our study found they perform very well in their designated application while delivering significant fuel savings to fleets."
Access the complete NACFE study on engine downspeeding here.