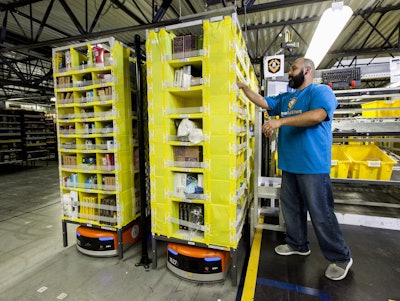 The carrier handling Amazon's same-day delivery services has been hit with a lawsuit by California truckers who claim the company has misclassified them as contractors — instead of company employees — thereby denying them wages and benefits owed under California law.
Four truck operators filed the class action litigation earlier this month on behalf of themselves and hundreds of other delivery drivers employed as part of Amazon's Prime Now service. Named as defendants in the suit are Amazon and carrier Scoobeez, the latter of which is the actual employer of the drivers bringing the suit.
The truckers claim Amazon and Scoobeez operate in "clear abuse of the independent contractor" model, part of a system they say allows the companies to skirt minimum wage laws and rest break requirements set by California labor laws.
Attorney Beth A. Ross of the Oakland-based Leonard Carder is representing the drivers in the case. She's the same attorney who successfully challenged FedEx's use of independent contractors in recent years, leading to a $227 million settlement between FedEx and drivers determined by courts to be wrongly classified as contractors.
According to court documents, the drivers say they were paid $11 an hour while on duty. They worked in shifts, they say, and were given specific instructions on the order of their deliveries and the routes they should drive. They were also required to wear uniforms denoting them as Amazon reps, per court documents, and pay for things like fuel, maintenance and insurance out of their paychecks.
Requests for response from Scoobeez were not immediately returned.
California has been a hotbed of misclassification lawsuits in recent years, with several court decisions being handed down since 2013 in favor of the truck drivers bringing the cases. Penske, FedEx and Affinity Logistics have all lost suits in which drivers claimed the companies were using the contractor model to withhold benefits like overtime pay, vacation time, rest breaks and more.