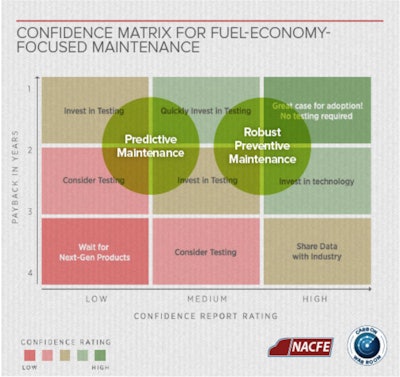 Trucking Efficiency, a joint initiative between the North American Council for Freight Efficiency and the Carbon War Room, released on Dec. 15 a confidence report the details how routine maintenance can be used to boost fuel economy in Class 8 trucks.
During the group's research, which included desk research, conversations at trucking industry events, and interviews with fleets, component manufacturers, and truck and trailer OEMs, Trucking Efficiency found the following:
Fleets view maintenance as important to their operation, but tend to look at it as a means for reducing downtime rather than improving fuel economy.
There is strong evidence that properly maintained trucks will enjoy improved fuel economy.
Wile reducing downtime is the main pathway to payback from investments in maintenance, adding information about the increased fuel efficiency enjoyed by well-maintained trucks can make investments in maintenance technologies, tools, bay space, technicians, or software an easier sell across fleet management.
"Even a vehicle that is running safely and reliably may still enjoy substantial fuel economy savings thanks to additional or more optimized maintenance," said Denise Rondini, NACFE study manager and communications director.
The report states that, while all fleets currently maintain their trucks through a preventive maintenance program, the fleets may not be linking the maintenance to fuel economy. The report encourages fleets to think of maintenance in terms of the fuel economy benefits rather than an added cost of business.
Detailed in the report are 10 major components or systems known to impact fuel economy, including lubricants/engine oil, intake/exhaust system and diesel particulate filters, engine cooling, air compressors, wheel alignment, tires, fuel filter systems, aerodynamic devices, electrical systems and air conditioning.
Access the complete study on preventive maintenance and fuel efficiency here.