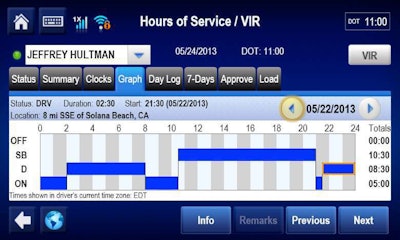 Omnitracs has released an Accident Severity Model that takes data collected from hours of service (HOS) applications and uses it to identify the highest risk drivers most likely to be involved in a serious accident.
The company says the model is designed for any fleet using an electronic HOS management system, regardless of size. Until now, the predictive modeling offered by Omnitracs has been limited primarily to large fleets, whose resources and access to volumes of data from multiple sources served as the foundation for advanced analytic-based insights.
The company says it used 10 years of truck accident data to help create the model. Thirteen percent of the 208,000 accidents in the study were "severe." It matched these accidents with the drivers' logs associated with each of the events to find the predictors, says Dean Croke, vice president of Omnitracs Analytics.
When building the model, the company held out 20 percent of the accidents for the purpose of doing a blind validation after the model was built to see how well it would predict in the real-world, he says. The standard modeling technique is to train the model on 50 percent of the data then test it on another 30 percent to double check the first model, and then do a final blind validation on the last 20 percent of the data or "what we call a 'hold-out set,'" he explained.
Omnitracs said its Accident Severity Model accurately predicted 90 percent of severe accidents in the 50 percent of drivers deemed to be at highest risk.
"With the ELD mandate imminent, fleets are acutely aware of the need to operate in accordance with current and pending regulations. Among the positive outcomes of the increased focus on hours of service management is the fact that many in the industry also recognized the critical importance of looking beyond basic compliance to ensure the safe operation of trucks on our nation's roads," stated Croke. "What many in our industry don't realize is that it's possible to be 100 percent compliant with HOS regulations and be sound asleep at the wheel, simultaneously. This is why we've developed the Accident Severity Model—to allow fleets to predict serious accidents using HOS data and proactively intervene with those drivers at highest risk for being involved."
Omnitracs said the Accident Severity Model relies on objective data to measure true performance rather than relying on drivers' perception of their condition and alertness. The model predicts drivers likely to have an incident based on both loss of control, in which there is a complete disconnect from the driving task, and distraction — or lack of concentration. Coming soon, it will also feature two-way technology that pulls data from the Hours of Service application and returns tailored safety measures to the driver, essentially serving as a virtual co-driver.
"Data shows that the average severe accident cost has a very wide range due to the random nature of the event from $250,000 to $1 million, not including injury, damage to a fleet's reputation or long-term impacts associated with higher insurance premiums, making the financial benefits of preventing such incidents obvious," noted Croke. "Omnitracs' Accident Severity Model allows fleets to predict accurately a significant proportion of crashes, thereby reducing expenses and mitigating resulting outcomes up to and including loss of life. If a carrier prevents only one severe accident in five years, a fleet of 25 trucks would experience a return of more than 10 times its investment in the solution."