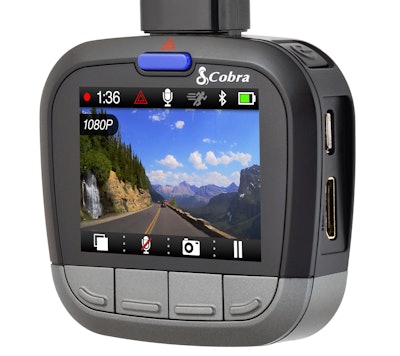 Magellan and Cobra Electronics each introduced new dash cams at SEMA this week in Las Vegas.
Magellan's new line of DashCam devices include MiVue 538, MiVue 638 and MiVue 658, each of which feature an impact sensor, anti-glare, wide-angle lens, full 1080P HD recording, and GPS time and location stamp.
Magellan's new Smart Truck system is optimized for professional truck drivers, and includes a 7 inch Android truck GPS navigation systems providing trip-planning features like customizable truck routes, multiple-stop routing, highway lane assist and traffic camera alerts from PhantomALERT.
Cobra's CDR 835 and CDR 855 BT dash cams are the latest additions to the company's Drive HDTM series. Each record in 1080P HD video, and feature an eight GB MicroSD memory card and continuous loop recording. Both models also feature a two-inch LCD screen, ultra-wide 160- degree lens, and a G-Sensor, triggering the unit to automatically and permanently protect clips if an impact is detected.
The CDR 855 BT model includes Bluetooth technology that connects the dash cam to a smartphone. It also integrates dash cam technology with Cobra's iRadar Community, which allows for access to GPS location information from a smartphone, as well as receiving alerts to upcoming speed and red light cameras, live police locations and shared radar alerts.
Additional features of the CDR 835 & CDR 855 BT include "parking mode," which provides event recording while a vehicle is parked.