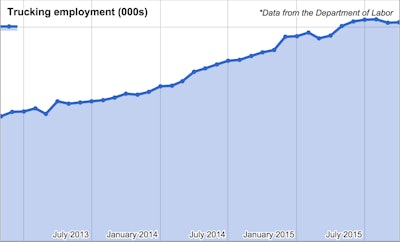 The for-hire trucking industry added 400 payroll jobs in October, according to the Department of Labor's monthly Employment Situation report, released Nov. 6. October's small rise comes after a loss of several 3,200 jobs in September. The latter figure, however, was downwardly revised from the October-released preliminary figures.
The U.S. economy as a whole in the month, however, added 271,000 jobs, pushing the unemployment rate down to 5 percent.
Total employment in the for-hire trucking industry in October hit 1.4546 million. Employment in the broader transportation and warehousing sector totaled 4.796 million in the month, down 2,100 jobs from September.
Other industries that added jobs in the month include construction, which added 31,000 jobs, and retail trade, which added 43,800 jobs. Manufacturing, meanwhile, neither lost nor added jobs in the month.