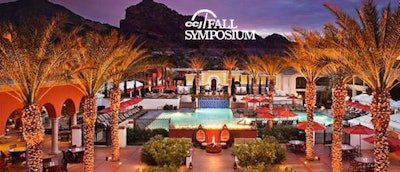 The 2015 CCJ Fall Symposium, held last week in Scottsdale, Ariz., hosted more than 250 fleet attendees and industry partners who heard from government officials, association heads and subject matter experts. Here's a recap of some of the highlights of the event. For more information on CCJ Symposiums and to reserve your spot for future events, visit our special CCJ Symposium website.
ON THE REGULATORY FRONT: Bill Quade, Associate Administrator for enforcement and program delivery for the Federal Motor Carrier Safety Administration, updated the agency's regulatory calendar for the remainder of the year — including the ELD mandate, Safety Fitness Determination and entry-level driver training proposed rules and more, and took questions from the audience concerning the latest in regulatory policy. CLICK HERE TO READ
POINT-COUNTERPOINT – FINDING COMMON GROUND:
Lane Kidd, managing director for the Alliance for Drivers' Safety & Security, and David Owen, president to f the National Association of Small Trucking Companies, went head-to-head in a heated debate that touched on a number of issues that showed the divide between large and small carriers, including Compliance Safety Accountability, minimum insurance requirements, electronic logs and more.
CLICK HERE TO READ
THE DAWN OF NEW OIL: Dan Arcy, chairman of the American Petroleum Institute's Committee on New Category Development, updated attendees on PC-11, the next-generation commercial vehicle grade motor oil that will be introduced with the rollout of 2017 emissions-compliant engines and discussed the two different formulations. CLICK HERE TO READ
INDEPENDENT CONTRACTOR MODEL UNDER ASSAULT: Rob Moseley, partner at Smith Moore Leatherwood and head of the law firm's transportation group, discussed the pitfalls of hiring independent contractors in a time where misclassification issues are rampant in the trucking industry, as well as recent court cases and tips when creating contracts and lease agreements. CLICK HERE TO READ
LUNCHEON ADDRESS- PAT THOMAS, ATA CHAIRMAN: Pat Thomas, the newly installed 2015-2016 chairman of the American Trucking Associations and senior vice president of state government affairs for UPS, laid out his unique view of the industry, reviewed ATA's advocacy efforts and laid out his agenda for his term, including a push to hire military veterans returning to the U.S. workforce. CLICK HERE TO READ