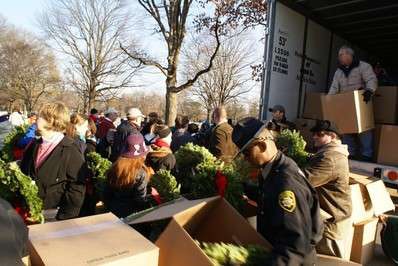 Omnitracs, a provider of fleet management systems to transportation and logistics companies, announced that it has pledged $25,000 in support of Wreaths Across America (WAA), an organization that coordinates seasonal wreath laying ceremonies at the graves of fallen military service members across the country. This is the sixth consecutive year that Omnitracs has participated in the cause, bringing the total amount of contributions to $150,000 since becoming involved in 2010.
"Omnitracs is humbled and proud to be able to join the ranks of other industry supporters — companies, fleets, professional truck drivers — to honor and commemorate those who have selflessly served and paid the ultimate price for our nation's freedom," said John Graham, CEO of Omnitracs. "By pledging our support — financially and through employee volunteer efforts — Omnitracs hopes to underscore its ongoing commitment to the armed forces, while helping to carry on this valued, sentimental and important tradition and display of patriotism."
The 2015 Wreaths Across America initiative will culminate on National Wreaths Across America Day (Saturday, Dec. 12), when volunteers will lay remembrance wreaths on headstones at hundreds of veteran cemeteries throughout the U.S. and abroad. Omnitracs employee volunteers will be focused on four key regions where the company has primary business operations; they will be participating at the Dallas-Fort Worth National Cemetery (Dallas), Miramar National Cemetery (San Diego, Calif.), Arlington National Cemetery (Arlington, VA.), and Fort Snelling National Cemetery (Minneapolis, Minn.).
In addition, for the first year ever, Omnitracs is offering to "honor it forward," where the company will match each employee's gift of time with a financial donation to that employee's choice of either the Wounded Warrior Project or Patriot Paws.
"Throughout its 23-year heritage, the mission of Wreaths Across America has been to Remember, Honor and Teach through these dedicated wreath-layings, and the trucking industry — including companies like Omnitracs — has always played a significant role in aiding these efforts," commented Karen Worcester, executive director of Wreaths Across America. "We appreciate that they are engaged at multiple Wreaths Across America locations nationwide, showing financial support and participation as volunteers. Without their continued generosity to serve the transportation industry and drivers that are essential to the delivery of the wreaths, our organization would not be able to salute the bravery of our dedicated service men and women."