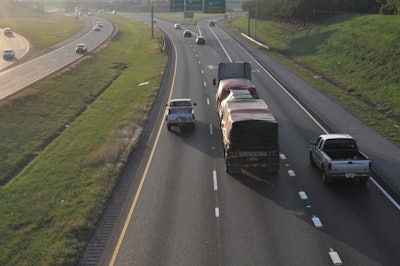 A proposed federal rule that would give the Federal Motor Carrier Safety Administration another means to score and target unsafe carriers has cleared the White House's Office of Management and Budget. The so-called Safety Fitness Determination rule cleared the OMB late last week and is now in the hands of the DOT, ready for publication as a Notice of Proposed Rulemaking when it chooses.
Since this is the proposed version of the rule, there will be a public comment period, likely either 60 or 90 days, following its publication. FMCSA will then begin work on a final version of the rule and send it down the regulatory pipeline for publication, a process that could take several years to complete.
The DOT has been working on the rule since 2007. Few details are known about what it entails. According to the agency's regulatory summary, it would give FMCSA a new system to "determine when a motor carrier is not fit to operate." The safety determination, however, would be in part based on the BASIC categories in the agency's Compliance, Safety, Accountability program, and it's unclear whether recent Congressional action to remove CSA rankings from public view will impact the SFD rule.
Language in the highway bill expressly prohibited use of SMS BASIC "alerts and the relative percentile for each BASIC developed under the CSA program" to be used for carrier Safety Fitness Determinations until FMCSA acts on the required revamp of the CSA program. The highway bill directed the agency to, within 18 months, commission a study by the National Academies to recommend improvements to the CSA SMS, with implemented changes then following before returning the SMS to public view.
The NPRM will likely be published before year's end.
–Todd Dills contributed to this report.