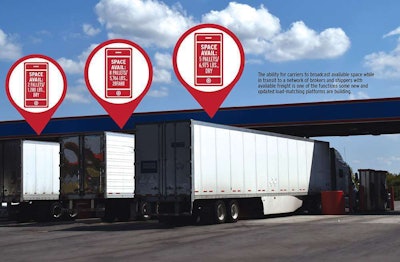 The value of some businesses in the "sharing economy" is astonishing. Wikipedia defines this space as the peer-to-peer-based sharing of access to goods and services, coordinated through community-based online services.
Airbnb, for instance, is worth more than $25 billion for the online service people use to reserve overnight lodging from others renting out their homes and apartments. Uber is worth more than $50 billion for creating an online ride sharing service.
Entrepreneurs and investors see similar opportunities to strike it rich by simplifying complex freight transactions. In the past year, a number of companies have created new online services that connect shippers and brokers with carriers to optimize freight transactions.
The idea of online load boards is nothing new but what has changed are the connectivity options and tools to simplify and accelerate decision making for all parties involved. Will these latest changes create new billionaires in the transportation industry?
Time will tell, but here is an explanation of five areas where changes are happening quickly. Click to find out more.
Online load boards have traditionally not handled functions that come after rates are negotiated such as freight tracking and billing. Some new online services can manage transactions end to end.
In many ways, trucking is becoming more like the travel industry by sharing instant pricing information.
With 90 percent of motor carriers operating less than six trucks, mobile apps give brokers and shippers a way to automate communications with owner operators and small fleets.
A mobile app called Uber gives passengers instant rates between any local origin and destination and connects them to drivers to make a pickup within minutes. How could booking a truckload shipment ever been this easy?
To help attract and retain good carriers, several companies now offer free, online fleet management systems for fleets to dispatch their equipment and drivers.