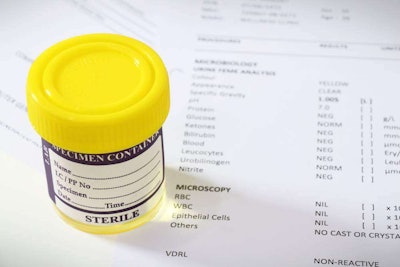 The Federal Motor Carrier Safety Administration has announced it is reducing the number of random drug tests required for carriers to conduct in 2016.
FMCSA said it will lower the rate for random controlled substances testing from the current rate of 50 percent of the average number of driver positions to 25 percent, effecting Jan. 1, 2016.
According to data in FMCSA's Motor Carrier Management Information System (MCMIS) for calendar years 2011, 2012 and 2013, the positive rate for random drug tests fell below the 1 percent threshold each year. If the positive rate rises back above 1 percent in any calendar year, FMCSA will increase the minimum percentage of random tests back to 50 percent.
According to federal regulations, the decision to reduce the random testing rate can be made after two consecutive years of positive tests being less than 1 percent. The FMCSA chose to maintain the 50 percent rate and "sought additional information related to drivers' positive test rates" before this year's third consecutive positive rate-year of less than 1 percent, FMCSA said. The decision on the reduction came after this latest evidence of the industry's reduction in positive tests.
The minimum annual percentage rate for random alcohol tests remains stable at 10 percent of the average annual number of driver positions.