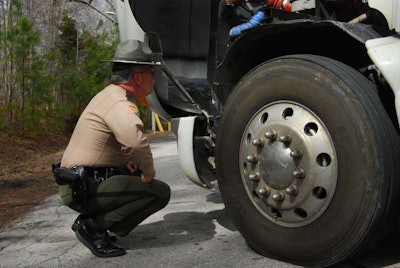 Law enforcement officers conducted 19,480 roadside inspections on commercial drivers and vehicles during the Commercial Vehicle Safety Alliance's 2015 Operation Safe Driver Week in October, CVSA announced Jan. 5.
The total number of inspections dropped from the 24,184 conducted in 2014's Safe Driver inspection blitz. The top five warnings and citations issued to commercial truck drivers were size and weight, speeding, failure to use a seatbelt, failure to obey a traffic control device and using a handheld phone.
In total, 13,807 commercial vehicles were inspected during the week. Law enforcement officers handed out 1,243 size and weight citations and 497 warnings, 404 speeding citations and 877 warnings, and 580 seatbelt citations and 112 warnings. In all, 4,062 citations and 3,923 warnings were given to commercial vehicle drivers.
"Unsafe driving behaviors can result in lives lost. That's what Operation Safe Driver Week aims to combat through driver enforcement and education," said CVSA President Maj. Jay Thompson with Arkansas Highway Police. "Our mission is to make our roadways as safe as possible. We will continue to work toward that goal by ensuring drivers are operating safely in and around large trucks and buses."
Other statistics from Operation Safe Driver Week for commercial vehicles include:
The percentage of stopped CMVs given speeding warnings and citations increased from 5.8 percent in 2014 to 9.3 percent in 2015.
The percentage of warnings and citations for failing to obey traffic control devices increased from 2.5 percent in 2014 to 3.85 percent in 2015.
The percentage of CMVs pulled over that were given seatbelt warnings and citations increased to 5 percent in 2015 from 2.8 percent in 2014.
"Everyone traveling on our highways and roads should reach their destination safely," said FMCSA Acting Administrator Scott Darling. "I thank CVSA and its members for their partnership and commitment to safety. By working together through efforts like Operation Safe Driver, crashes will be prevented and lives will be saved."