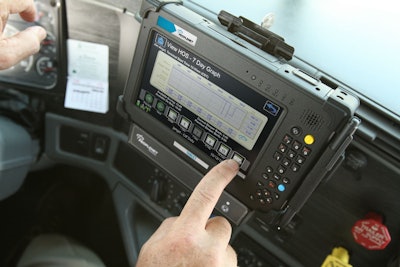 The enforcement date of the freshly published federal rule requiring truck operators to use electronic logging devices to track their hours-of-service is just a little less than two years away — Dec. 16, 2017.
Carriers and drivers who fall under the rule — click here for more details there — must have ELDs installed and in use by that date, barring the rule's overturned by a court challenge.
What will happen to carriers and drivers who don't comply, however, is still unknown, and the U.S. DOT's Federal Motor Carrier Safety Administration is still in the process of finalizing enforcement measures for the ELD mandate, says FMCSA spokesman Duane DeBruyne, given that the rule's compliance date is still about two years away.
"Corresponding enforcement actions/civil penalties for noncompliance are to be determined," DeBruyne said in an email response to a CCJ inquiry.
Speculating in September during an address at FTR's annual conference, former FMCSA Administrator Annette Sandberg said enforcement could be as simple as "one strike, you're out," hinting that operators who fail the comply with the mandate by December 2017 would face either a temporary shutdown, such as a standard out-of-service order, or perhaps even a more severe shutdown order.
CCJ will publish more specifics on penalties for noncompliance when specifics are fleshed out. See more coverage of the ELD rule and its harassment prevention measures later this week.