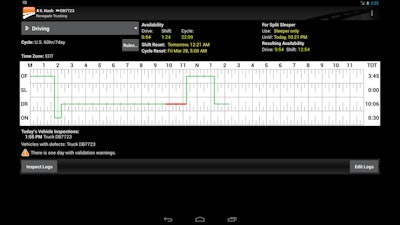 The Owner-Operator Independent Drivers Association has filed a petition with the 7th Circuit Court of Appeals asking it to review the agency's coming electronic logging device mandate, unveiled last week and set to take effect in late 2017.
The brief, one-paragraph document was filed Friday, Dec. 11, one day after the Department of Transportation's Federal Motor Carrier Safety Administration announced the rule and released its text.
OOIDA President and CEO Jim Johnston also said the group intends to "fight [the mandate] with everything we have available."
"This regulation is absolutely the most outrageous intrusion into the rights of professional truckers imaginable and will do nothing at all to improve highway safety. In fact, we firmly believe it will do exactly the opposite by placing even more pressure and stress on drivers than they already deal with," Johnston said.
The ELD rule states parties have 30 days following the rule's publication, slated for Dec. 16, to file petitions for reconsideration, such as OOIDA's.
OOIDA successfully challenged in 2012 the agency's previous attempt at mandating electronic logging devices set to take effect that year, following the April 2010-issuance of the rule. OOIDA claimed then, and the courts agreed, that FMCSA hadn't done enough in the rule to prevent driver harassment via ELDs.
In the new ELD rule, however, the agency fleshed out harassment prohibition measures aimed at preventing such harassment, such as interrupting drivers during their off-duty hours via the devices or with information gleaned from an ELD. FMCSA also included protocol for drivers to file complaints against carriers who do harass them. FMCSA also published late last month a rule to institute stiff penalties against, carriers, shippers and brokers who coerce drivers to violate federal safety regulations, which is in part related to the publication of the ELD rule.
The American Trucking Associations has voiced strong support for the rule.