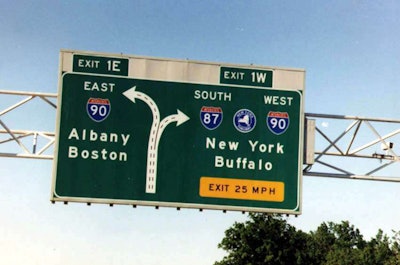 The state of New York will begin refunding taxes to trucking companies that enter the state from other states after the Owner-Operator Independent Drivers Association reached a $44.4 million tax refund agreement with the state.
The state's Supreme Court agreed earlier this year with OOIDA's challenge that the registration and decal taxes in the state were unconstitutional and discriminatory against out-of-state truckers who drive mostly in other states. OOIDA established that the taxes resulted in a higher per-mile tax rate being imposed on out-of-state trucks, and therefore violated the Commerce Clause of the Constitution.
"We fought against a number of similar taxes back in the 1980s and 1990s and the states lost in every one of those cases," said OOIDA President Jim Johnston. "Given that history, we were shocked that New York even thought they could get away with this blatantly unconstitutional tax. The amount for the New York HUT decal is $19, which may seem insignificant, but if other states were to do the same thing, it would be huge – collectively and in administrative costs."
New York didn't appeal the ruling and agreed to negotiate with OOIDA to develop a class-wide refund program. OOIDA said class members will receive a "virtually complete tax refund, plus interest, subject to attorneys' fees, based upon the state's reapportionment of the taxes in conformity with constitutional criteria."
OOIDA said it will also ask the court to require carriers who charged any registration or decal payments to owner-operators to reimburse the full amount of refunds for these taxes to the owner-operators. The refund program will become effective after class notice and final court approval.
Prime Inc. (No. 15 on the CCJ Top 250) sued the state for nearly $500,000 earlier this year for repayment of the two taxes ruled unconstitutional in OOIDA's lawsuit.
Another lawsuit brought against New York by the American Trucking Associations and a number of individual truckers claiming the New York State Thruway Authority charges excessive tolls is still under contention. New York Gov. Andrew Cuomo in January froze tolls on the state's thruway through at least 2020.