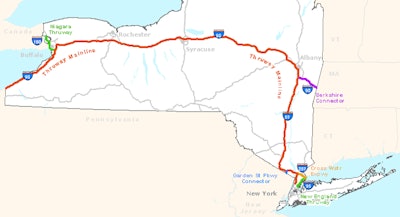 The Owner-Operator Independent Drivers Association has won its class action lawsuit against New York after a state trial court ruled its Highway Use Registration and Decal taxes are unconstitutional.
Acting Supreme Court Justice James Ferreira granted OOIDA summary judgement and permanently enjoined the state from collecting the taxes Feb. 2. The association had asserted trucks owned and/or operated outside of New York log fewer miles in the state than trucks owned and/or operated in New York.
That results in out-of-state truck owners have a higher per-mile-tax rate, which violates the federal Commerce Clause prohibiting states from imposing burdens on interstate commerce, the court ruled.
The state charges $15 registration for each vehicle subject to HUT unless operating on New York Thruway's tolled portions. OOIDA filed suit in 2013, when New York began requiring a $4 decal as proof of registration and not displaying it became classified as a traffic infraction.
Ferreira gave the association 60 days to submit briefs regarding refunds, which OOIDA has estimated could total more than $30 million.