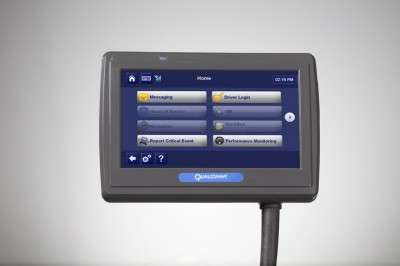 Omnitracs announced the availability of the Driver Workflow 2.0 application on its Mobile Computing Platform 50 (MCP50).
Driver Workflow 2.0 is application suite integration that enables direct access and data sharing to other in-cab applications through a single, centralized driver workspace view, which consolidates load assignments, trip information, tasks, and forms.
The company says the new version expands on existing application functionality — including automated load assignments, forms processing and dispatch software integration — to further streamline drivers' in-cab tasks and improve information accuracy.
Driver Workflow 2.0 offers drivers an improved user experience, the announcement said, by minimizing the need to switch between different application screens to complete typical workflow processes. It integrates with other Omnitracs mobile fleet management applications such as Hours of Service, Media Manager, In-Cab Scanning, Navigation, and upcoming out-of-cab data capture applications.
"We continuously look for opportunities to improve fleet productivity and enhance the driver experience— Driver Workflow 2.0 does both," stated Jimmy Fortuna, vice president of product management at Omnitracs. "Given the widespread driver shortage in our industry, fleets are increasingly looking for tools to improve overall driver satisfaction with their mobile work environment. Driver Workflow 2.0 streamlines drivers' duties with an intelligent, centralized work space for all in-cab tasks and forms while automatically updating dispatch on status as activities are completed."