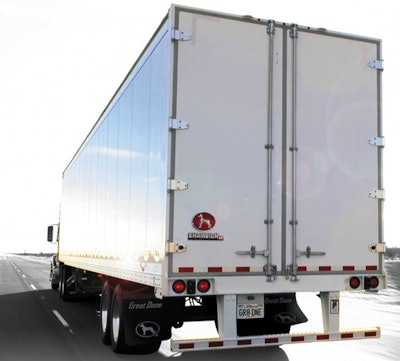 Trailer backlogs are at historic levels and order expectations for 2016 are optimistic, according to data released Monday by FTR.
FTR reports U.S. trailer net orders for December fell 35 percent month-over-month to 25,500 units, and 43 percent year-over-year. Full-year 2015 orders totaled 313,000 units.
Even with the dramatic fall in activity, Don Ake, FTR vice president of commercial vehicles, says December trailer orders met expectations and fell back into a more reasonable range after heavy activity in November.
"The order numbers are down month-over-month and year-over-year, but that is only because they are compared to two of the strongest order months in history," he says. "We enter 2016 with the largest backlog ever, so we can expect another strong trailer year."
The market is being driven by demand for dry and refrigerated vans, Ake says, as consumer spending has been steady and there is still pent-up demand for vans.
"Production is expected to ease back moderately in the second half of 2016," Ake says. "Most of the vocational markets are struggling a bit, except for dump trailers, which show no sign of slowing anytime soon."
FTR data showed dry van orders slowing after three strong months. Refrigerated vans and flatbeds were weaker due to cancellations, a side effect of OEMs cleaning up their backlogs at the end of the year.
December trailer build was down overall 3 percent from November, with both dry van and flatbed build rates falling. Production of refrigerated vans was up 13 percent month-over-month. The liquid tank market remained steady, FTR says, and dry tank production improved. The dump trailer market remains strong.