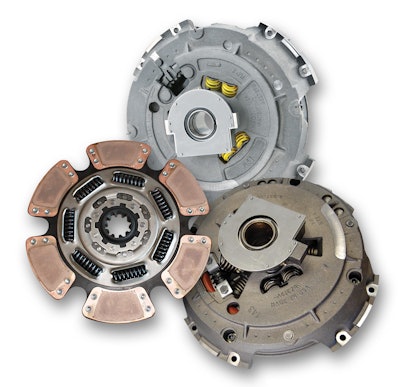 Meritor introduced Tuesday at Heavy Duty Aftermarket Week in Las Vegas a new line of AllFit clutches for OE and warehouse distributer customers.
The new all-makes clutch line includes both manual-adjust and self-adjusting models and covers heavy-duty, medium-duty, light-duty and off-road applications.
Jason Kraus, senior manager, Drivetrain, Aftermarket for Meritor, says the clutches are equipped with high-performance friction material exclusive to Meritor. Each are new units with no assessed core charge or core handling fees, and no critical interior components are remanufactured.
The new line includes a standard, one-year product warranty coverage with labor reimbursement of up to $800.
The manual-adjust model is available in 14-inch clutch assemblies with torque ratings from 620 to 1,400 pound-feet for medium- duty applications; 15.5-inch clutch assemblies with seven-, eight-, nine- and 10-spring disc designs offering torque ratings from 1,250 to 2,250 pound-feet; and 15.5-inch easy-pedal effort clutches offering single-motion adjustment.
The self-adjusting model is available in 15.5" x 2" sizing, and the self-adjusting clutch comes with seven springs or nine springs in four- and six-paddle options.
Unique features of the self-adjusting model include over-adjustment prevention technology; patent-pending Actively Expanding Seal (AES) provides anti-contamination enclosure; self-locking worm gear ensures positive adjustment; installation employs the same procedure used for installing manually adjusted clutches; and simple reset procedure (if required) that does not require clutch removal.