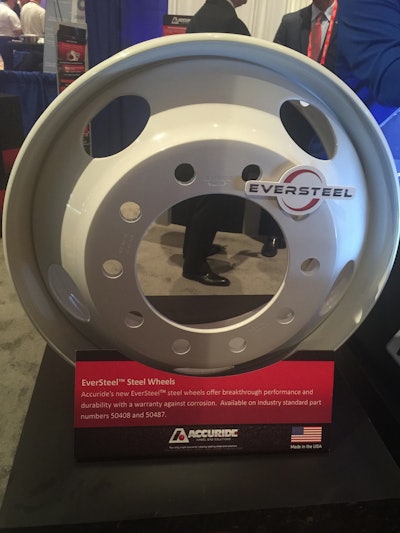 Accuride Corporation announced at Heavy Duty Aftermarket Week in Las Vegas the launch of a new proprietary steel wheel coating that comes backed with a five year warranty against corrosion.
EverSteel, the company says, demonstrated six times longer life than its North American and offshore competitors and double the operational life of Accuride's Steel Armor steel wheels. The advanced corrosion-fighting properties come from EverSteel's proprietary four-phase coating process, says Rick Dauch, president and CEO of Accuride.
"Never before have steel wheels received warranted corrosion protection like that offered by our EverSteel technology," he says of the industry-first anti-corrosion warranty. "It sets a new standard of performance and durability, and will enable our fleet customers to achieve significant savings in wheel refinishing costs and the associated downtime."
Designed for fleets and long-life trailers operating in the ice, snow or oceanside, EverSteel wheels are available in white, grey and black.
"[EverSteel] should eliminate somewhere between three or four wheel refinishing episodes over the life of the wheel," Dauch adds. "That can save up to $105 per steel wheel in cost avoidance from re-coating and the downtime from taking a wheel out of service."
"The average fleet keeps the truck 3 to 4 years, so they can avoid refinishing altogether," Dauch says.
The wheels will be available February 1.