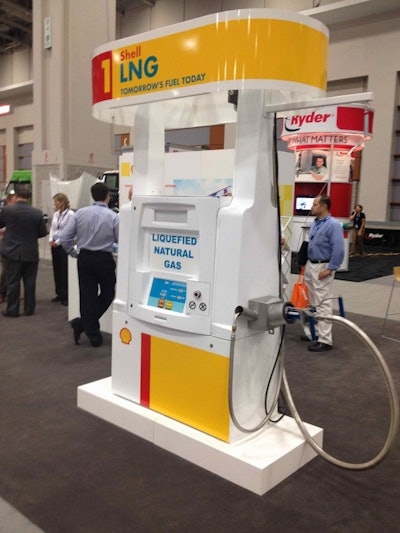 Ryder System, Inc. and Shell Oil Company have signed an agreement for for 15 liquefied natural gas (LNG) heavy-duty vehicles supporting oil and gas logistics operations in Lafayette, La. and Houston, Texas.
Ryder currently manages road transportation for Shell's freight hauling activities across its U.S. exploration and production activities. The 15 LNG fueled vehicles will replace Ryder diesel-powered vehicles in the existing fleet and will be serviced out of Ryder's Lafayette, La. facility, which is being engineered to meet the unique compliance requirements for natural gas.
As part of this initiative, Ryder has signed a five-year fuel agreement with Shell which will provide LNG fuel for the dedicated natural gas fleet.
The Shell sea port and cross state routes are an application ideally suited for natural gas vehicles. Ryder worked with Shell to develop a customized truck specification that was weight-sensitive to maximize freight revenue, while assuring durability and operability in the field.
Ryder currently has logged more than 50 million miles on natural gas vehicles and has 18 natural gas vehicle maintenance facilities staffed with more than 6,000 natural gas vehicle trained maintenance and support personnel.
Ryder has deployed CNG and Liquefied Natural Gas (LNG) vehicles into the fleets of Ryder customers in Arizona, Arkansas, California, Florida, Georgia, Louisiana, Maryland, Michigan, New York, Texas, Utah, Wisconsin, and Quebec, Canada. The Company operates Liquefied to Compressed Natural Gas (LCNG) fuel stations at its Fontana and Orange, Calif., service locations.
"We are excited to work with Ryder to transfer diesel vehicles to LNG. LNG can be a good choice for truck owners and more are making the switch to LNG," said Dan Flynn, Shell Vice President Logistics. "It is great to see Ryder's drive for Shell LNG, a clean burning fuel that meets emissions regulations without the need for after treatment systems used in diesel engines. Ryder has been extremely responsive to our service needs, which makes us confident about our continued relationship. Ryder's help was critical to provide the logistics expertise, knowledge, and know-how needed to ensure that the fleet was operating at its best."
The natural gas vehicles are being made available through Ryder's participation in the Texas Natural Gas Vehicle Grant Program (TNGVGP), funded by the Texas Emissions Reduction Plan (TERP) initiatives and administered by the Texas Commission on Environmental Quality (TCEQ).