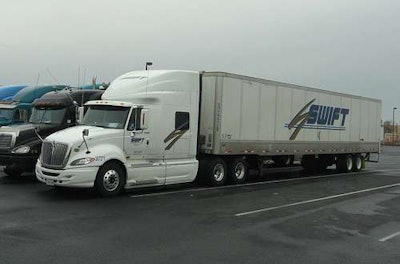 A former Swift Transportation driver has filed a lawsuit against the mega-fleet seeking payment for medical expenses and lost wages she claims were caused by negligent maintenance practices by Swift (No 3 in the CCJ Top 250).
The lawsuit stems from a November 2012 incident in which former Swift trucker Jessica Baca claims she suffered "significant and permanent injuries" to her hands, according to court documents, when attempting to use a Swift trailer's landing gear crank to raise the trailer's height.
A request for comment by CCJ to Swift was not returned before this article's publication. It will be added if it becomes available.
A malfunction of the crank, Baca claims in her suit, caused the crank to turn backwards and hit her hands, injuring her to the point where she could no longer work, the lawsuit alleges.
Swift and the shipper's facility where Baca was picking up a load "failed to inspect and properly maintain" the trailer's landing gear and associated equipment, Baca claims. The carrier was also negligent in its direction to provide Baca with "safe instructions" after she reported to her dispatcher that there were mechanical problems with the trailer.
A jury in August recently sided with a former Swift owner-operator in a similar case, ordering trucker Herbert Willoughby to receive a $2.6 million settlement, though the ultimate amount of the settlement was not disclosed. Willoughby claimed negligent maintenance practices by Swift led to a severe injury of his foot, which was ran over and crushed by a Swift trailer.