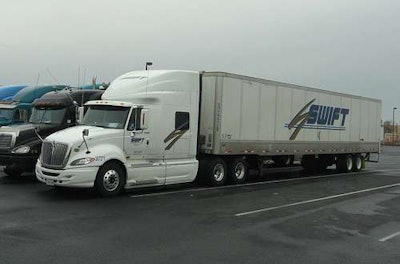 Swift, the country's largest truckload carrier, this week settled a 2013-brought lawsuit with one of the company's former owner-operators, ending its bid to fight the litigation in which the fleet was recently ordered to pay $2.6 million in court.
The final dollar amount of Swift's settlement is confidential, however. The case was heard by a jury on Aug. 12, who returned a verdict later that month ordering Swift to pay $2.6 million in damages to trucker Herbert Willoughby, who suffered a severe foot injury in June 2012 when a loaded Swift trailer ran over his foot.
Willoughby sued Swift the next year, asking for payment of physical and mental pain, medical expenses and lost wages. He blamed Swift for the incident, claiming negligent maintenance practices by the carrier caused the accident.
Request for comment from Swift was not returned before this article's publication. It will be added if it becomes available.
Robert Tharp of Androvett Legal Media, however, said the settlement "is a victory for Willoughby," as the settlement means Swift will not appeal the jury's verdict.