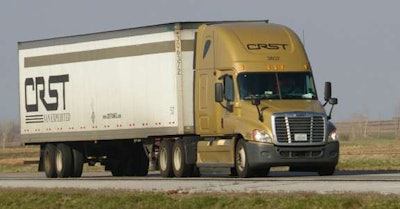 A current owner-operator and former CRST Expedited driver trainer has filed a lawsuit against CRST claiming a colleague regularly harassed him because of his skin color, insulted and humiliated him in front of his peers and, ultimately, publicly assaulted him and fired him.
Brian Hairston, who now works some as an owner-operator and does safety consulting work for smaller fleets, filed the suit against his former employer in California state court last May, naming CRST Expedited and his former supervisors Debora Martin-Armstrong and Alvin Hoggard as defendants. The suit claims CRST failed to prevent the harassment and discrimination and was negligent in its oversight of Martin-Armstrong.
CRST said in an email to Overdrive that it does not have a comment on the suit, given the litigation's results are still pending.
Hairston, according to his legal complaint, took a job at CRST as a Safety Trainer Officer in September 2013, leaving his previous job as a driver for CRST. He says he began being harassed and discriminated against by a colleague, Martin-Armstrong, almost immediately upon assuming the position. She regularly questioned his experience, suggested he wasn't qualified and called him "belittling" names, the suit claims.
She would also scream at him and belittle him while he was training drivers, along with regularly screaming cuss words at him, the suit alleges.
Following a December 2013 complaint with California's Department of Fair Employment and Housing, the harassment and discrimination worsened, Hairston says, which led to Martin-Armstrong moving Hairston into a broom closet to work without a desk. He used a typewriting stand to work and do paperwork and had to place his belongings on the floor, as they wouldn't fit on the stand.
Also following the DFEH filing, Hairston received a performance review from CRST, in which he was given high marks for his work ethic and his knowledge and job experience.
The harassment eventually "came to a head," the suit says, in May 2014, when Martin-Armstrong punched Hairston in the stomach in front of a classroom full of driver trainees, Hairston alleges. He was fired the next week.
Hairston alleges Martin-Armstrong's actions, including his firing, were racially motivated and discriminatory. Hairston's seeking compensatory and punitive damages, pay for lost wages and attorney's fees.
The full complaint and Hairston's allegations against CRST and Martin-Armstrong can be read at this link.
-Todd Dills contributed to this report.
Corrections and updates: Hairston has since amended his complaint against CRST to say the carrier also owes him back wages for denying him meal and rest breaks, as required by California law. An earlier version of this story also stated Hairston once drove for CRST. He in fact never did.