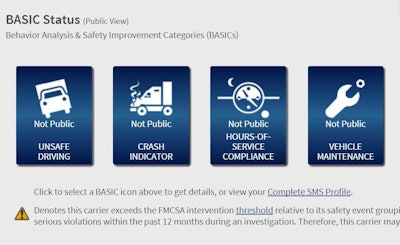 An ad hoc coalition of motor carrier groups is urging Congress to act on what it sees is the Federal Motor Carrier Safety Administration's violation of provisions in the FAST Act highway bill, which it says in effect prohibits the issuance of a new carrier safety rating rule using CSA data. The agency published the rule proposal last month.
The FAST Act highway bill, the coalition argues, prohibited the agency from issuing any major rule proposal related to the CSA program before the report on the potential revamp of the CSA Safety Measurement System (and corrective action plan) the bill also required. The coalition outlined three components of the FAST Act it believed the FMCSA was about to violate, which you can see at this link.
The coalition includes, among others, the Auto Haulers Association of America, the Western States Trucking Association, the Alliance for Safe, Efficient and Competitive Transportation and the National Association of Small Trucking Companies.
FMCSA declined to comment when asked about the charges last month, and as expected, issued the Safety Fitness Determination Notice of Proposed Rulemaking despite the coalition's opposition.
The coalition issued another letter this week to Sen. Deb Fisher (R-Neb.), saying that though FMCSA may not have explicitly violated the law as written, it violated the spirit of the law's intentions. "SMS data and methodology are thoroughly integrated into the agency's NPRM, which is clearly not what you and other transportation leaders in Congress intended. … Rather than take to heart Congress' broad-based concerns about CSA and SMS, the agency hides behind the technical point that the NPRM complies with Section 5223(b) of the FAST Act because SFDs are not based on SMS alerts or relative percentiles," the letter reads.
It also includes an exchange between Acting FMCSA Administrator Scott Darling and Fisher that took place during a Senate hearing on Darling's pending nomination by President Obama to head the agency on a permanent basis. Click here to read the full letter.