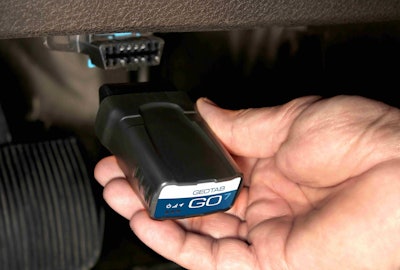 Geotab and Cummins announced that the Cummins Connected Diagnostics application is now available to customers using Geotab's fleet management system.
Geotab is among the first telematics providers to support Connected Diagnostics which leverages data from Geotab's latest GO devices to provide immediate notification of urgent engine system faults, and provides information and Cummins recommendations in a notification report.
The GPS-enabled GO7 is a plug-and-play device with internal antennas that eliminate installation time.
"Cummins Connected Diagnostics, enabled by Geotab's GO devices, allow fleets to easily access useful, real-time engine data, cut costs and make more informed business decisions," said Colin Sutherland, vice president of sales, Geotab.
"Cummins is excited to integrate Connected Diagnostics with Geotab, and through its innovative platform, we can bring Connected Diagnostics insight to a broad range of Cummins customers in many types of applications," added John Malina, executive director of Cummins' Product Connectivity Business.
Availability of Connected Diagnostics through Geotab will begin Feb. 9, 2016.